Company Profile
S. R. Engineering Corporation is a renowned name in the field of manufacturing non-ferrous metal casting products. The company has a world class manufacturing facility in Delhi India, where it manufactures high quality Silencers, Die Cast Components, Aluminum Castings and Aluminum Die Castings through various casting processes like pressure die casting, gravity die casting, sand casting & shell moulding. The company also has expertise in manufacturing Sand Castings, Pressure Die Castings, Precision Machined Components, CNC Machine Shop Aluminium Casting, and more.
A well-managed business serving diverse industries for around 50 years, today, S. R. Engineering Corporation is ISO 9001:2015 certified by absolute S. R. Engineering Corporation and has a large customer base spread all across the globe.
As a forward-looking and vertically integrated business enterprise, the company has made significant investments on setting up a state of the art infrastructural facility duly outfitted with in-house aluminium castings, aluminum die castings, gravity die casting machines, etc. The company also has all the requisite facilities for executing quality testing procedures such as hardness testing, and has complete quality control support by advanced coordinate measuring machines.

Rapid prototyping is done employing these sophisticated facilities before the process of design approval & consequent conversion to mass production. High speed machining and high-tech product finishing facilities all all available in house, which allows for quality mass production in a time-bound manner.
Fact Sheet :
Business Type

Exporter, Manufacturer, Importer, Trader, Service Provider, Distributor & Supplier

Export Percentage

75%

Primary Competitive Advantages

Ethical trade practices

Best quality products

Competitive prices

Timely delivery

No of Staff

50

Year of Establishment

1984

No of Production Lines

3

Export Markets

Worldwide

OEM Service Provided

Yes

No of Engineers

5

Monthly Production Capacity

As per requirement

Product Range

ALUMINIUM CASTING COMPONENTS

GRAVITY DIE CASTING

PRESSURE DIE CASTING

SHELL CASTING

SAND CASTING

CNC MACHINED COMPONENTS (FERROUS AND NON FERROUS)

PISTON PINS, CRANK PINS, AND GUDGEON PINS

SHEET METAL COMPONENTS

Silencers

Services Offered

Machining Services

Casting Services

Standard Certification

ISO 9001:2015 Certified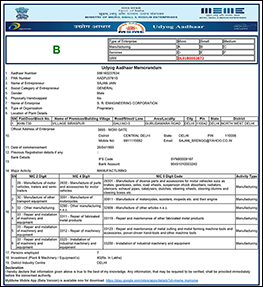 Contact Us
Regd. Office: 3895, Mori Gate, Delhi, Delhi, 110006, India
Phone :+918045801679